Fellow Permaculture Practitioner Susanna Lein is hosting her:
4th Annual Corn Harvest & Husking Party at Salamander Springs Farm
Saturday, October 10 from 1 to 5 p.m. Potluck at 5:30 followed by a bonfire, music & dancing in the new granary!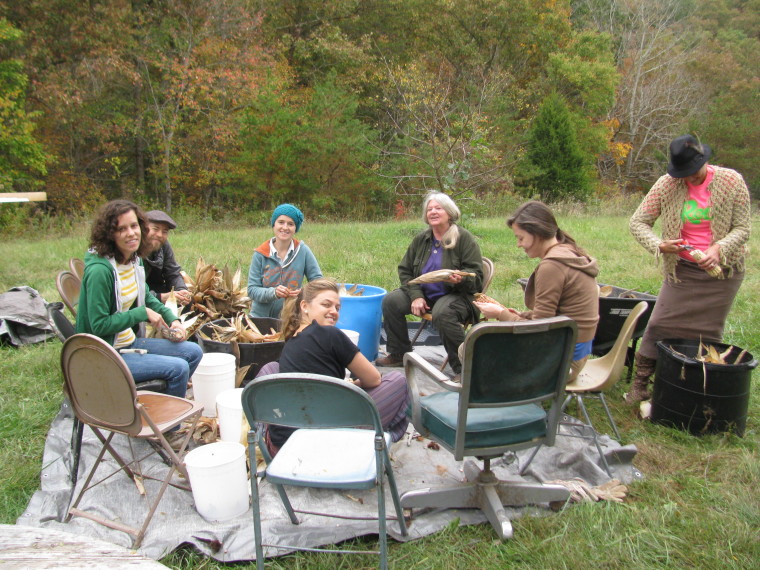 Despite the weather extremes of the 2015 season, some resilient cornmeal corn is ready to harvest! We'll hand harvest ears from the field and then form a corn husking circle to shuck the corn to dry in the crib and select the best ears for seed. Traditionally, corn husking parties were followed by a feast, music and dancing.
The new granary floor will be cleared for music and dancing by lantern light. Bring your instruments! According to corn husking traditions, whoever finds of a red ear of corn gets to ask a kiss from someone of his or her choice! Salamander Springs Farm cornmeal corn has most of the colors of the rainbow, so your chances are pretty good.
Last year's Corn Harvest Party saw the roof go on the new granary at Salamander Springs Farm. It's not quite finished but already in use! You can try out the 1904 model International Harvester corn sheller on dried ears of popcorn. Cornmeal corn already harvested may also be dry enough to shell.
We'll mill and eat some delicious cornbread, using the light-commercial corn mill funded by a KSU small farmers' grant. You can also contribute by helping prepare farm fresh food for the meal in the outdoor community kitchen. If you'd rather help with a construction project, we're building a porch addition on the granary for a community gathering/workshop/eating space (funded by a small WWOOF grant).
Looking forward to seeing you in a few weeks!
Susana, Heather & Courtney at Salamander Springs Farm
P.S. Special thanks to Remy, Derek, Rob and Tom of Urban Indigenous in Lexington's North End for their awesome contributions to this project last weekend!
WHAT TO BRING:
A potluck dish to share if you can (We'll have a big pot of Salamander Springs Farm pinto beans, cornbread & other yummy foods.)
Warm clothes & hats for the evening
BYOB and musical instruments
If you are camping, bring a tent, gear, extra blanket, and a headlamp.
For the corn harvest & husking party:
A machete for cornstalks
Small hand-held pruners (Felco type) and pocket-knife for corn ears
Gloves
For construction on the granary porch addition:
Hammer, tape measure, pencil, square…
Other carpentry tools like an extra drill, saw or a power nailer would be wonderful!
If you want to take home some of Kentucky's finest spring water, bring along some water jugs!
If you have organically-raised cornmeal corn already sufficiently dry, bring it along and we can mill it for you.
DIRECTIONS TO SALAMANDER SPRINGS FARM, 9 miles south of Berea, KY:
FROM COLLEGE SQUARE at 4-way stop with Boone Tavern Hotel & Union Church: Go south onto Scaffold Cane Rd. (Rte. 595 South) and out of town past Berea College gardens.
After a few miles on Scaffold Cane Road, the road will begin climbing switchbacks (into Rockcastle County). At the top of the ridge, about 50 yards after passing the Old Macedonia Baptist Church, you'll come to a 3-way fork.
Take the middle fork DOWN on Rte. #1787 (easy to miss in the dark).
Go about 4 miles down into the Clear Creek Valley to a "T" intersection (in front of the long-closed Old Disputanta Post Office). Take a right on Disputanta Rd. (still Route #1787), and go 1 mile to a stop sign for Wildie Rd. at an old barn.
Take a right on Wildie Rd. Go about 1 1/3 miles to an unmarked driveway on left the for Salamander Springs Farm. Across from our driveway is a little old brown house (on right side of road) with a porch close to the road and mailbox #5982. Our gravel driveway goes straight up through woods, less than 1/4 mile to the top. (At the bottom of the driveway there's a split to an old barn up to the right–don't go up there, instead straight up). There's a steep drop off to a creek along your right. Front wheel drive cars do fine; rear-wheel drive trucks without 4-W do best with plenty of weight in the back. Welcome!
Call 859-893-3360 if you have questions (our email access is limited–in town).
According to a friend, GPS coordinates for farm driveway are: 37.4577, -84.259) & for house & farm on the ridge: 37.45965, -84.25916 (Warning: for 5982 Wildie Rd., Wildie, Google Maps will likely send you to Mars or the moon!)
S A L A M A N D E R S P R I N G S F A R M
P.O. Box 354 Berea, KY 40403 tel. 859-893-3360
Local Harvest profile
Local Harvest Storefront
Local Harvest CSA newsletter
See permaculture & natural building practices at Salamander Springs Farm: Photos of the Farm.
"You never change things by fighting the existing reality. To change something, build a new model that makes the existing model obsolete." -Buckminster Fuller